ONLINE & ONSITE TRAINING FOR THE HEART & THE ART OF WORSHIPPING MUSICIANS
When the heart and the art of worshipping musicians are less than they could be, the whole Church suffers. Even passionate worshippers will struggle to connect.
More Than Music Mentor provides outstanding resources that improve musicality, increase participation, instill unity and inspire authentic worship – in the musicians and in those they lead.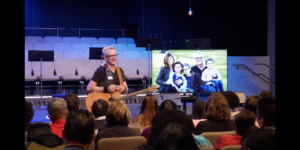 If you desire to see (and hear!) music used more effectively as an expression of worship by your Church community, More Than Music Mentor can help. More Than Music Mentor provides high-quality online and onsite training for the heart and the art of worshipping SINGERS, INSTRUMENTALISTS and TECHNICIANS.
More Than Music Mentor is suitable for any denomination. All ages, proficiency levels and musical styles, from any congregation size are catered for. Theologically sound, highly practical, seriously fun, interactive instruction that will…

With curriculum perfected over more than a decade of successful, professional experience – mainly in the USA – the full, onsite workshop is conducted with the support of a pro audio/video tech instructor and features five interconnected teaching modules:
On your home turf inspire, offer solutions and challenge your team.
"The Saturday workshop was so very helpful! I learned things I had never heard anywhere else before and God moved so very powerfully all through the songs and the message on Sunday morning. Speaking just for me and my family, I don't think our lives will ever quite be the same again."
"From sound guy, to musician, to vocalist, to director, Grant offers expert advice that provides easy and practical tips for the entire team."
"A great reminder to engage people in [songs of] worship by having a balance of space and notes."
"It was one of the most educational and informative nights I have ever been to! I feel like I have learned so much - not just about how to be a better musician but also a better worshipper."
"Grant's passion for worship, skill as a musician, and gift for teaching beautifully combine in a clear and engaging manner that brings a richer understanding of what worship is."
"Our praise band spent three hours with Grant one Saturday afternoon and it has revolutionized both our playing and singing together as a team, and our perspective on what it means to worship and be worshipers of God."
"Whether you're a big or small church, doing this or that musical genre, with an all-pro band or beginner volunteers, a big choir or one singer with an acoustic guitar, Grant's laser-focused message will be of great benefit to your worship team."
"You can't help but see Grant's heart for worshiping God and his passion for training church music teams. He will take your church band to a new level musically. And he'll also inspire them to be better worshipers of Jesus."