ONLINE & ONSITE TRAINING FOR THE HEART & THE ART OF WORSHIPPING MUSICIANS
When the heart and the art of worshipping musicians are less than they could be, the whole Church suffers. Even passionate worshippers will struggle to connect.
More Than Music Mentor provides outstanding resources that improve musicality, increase participation, instill unity and inspire authentic worship – in the musicians and in those they lead.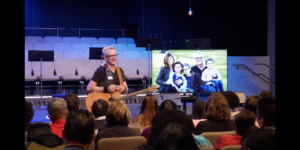 If you desire to see (and hear!) music used more effectively as an expression of worship by your Church community, More Than Music Mentor can help. More Than Music Mentor provides high-quality online and onsite training for the heart and the art of worshipping SINGERS, INSTRUMENTALISTS and TECHNICIANS.
More Than Music Mentor is suitable for any denomination. All ages, proficiency levels and musical styles, from any congregation size are catered for. Theologically sound, highly practical, seriously fun, interactive instruction that will…

With curriculum perfected over more than a decade of successful, professional experience – mainly in the USA – the full, onsite workshop is conducted with the support of a pro audio/video tech instructor and features five interconnected teaching modules:
On your home turf inspire, offer solutions and challenge your team.
"I have been produced by Grant as a member of The Band Apollo and as a hired studio musician on another artist's project. I rate him highly as a producer and leader. He's well organized, hard working, has clear vision, excellent communication, is very encouraging and always focused on building authentic, mentoring relationships with those involved in the project. I look forward to being produced by Grant again in the future!"
"His coaching with my music team … struck just the right balance of practical and theological. His More Than Music Workshop was wonderful - disarming humor combined with timeless truths that centered us back on Christ and His mission in the world."
"Our time with Grant far exceeded my expectations. The coaching he gave our praise team was clear and thoughtful. Even weeks later, we are still talking about the things he shared and the ideas he has given us."
"Grant's training is invaluable! By spanning both the musical technicalities and the spiritual attitudes of the praise team, he manages to bring everyone back to the foundational basics while inciting necessary growth."
"Grant is a breath of fresh air if you are tired of 'worship wars'.  Grant brings a new prophetic and powerful voice to Churches that are repositioning themselves as missional communities of faith.  We are looking forward to his next tour."
"In the few weeks since Grant's More Than Music Workshop - with us now applying the things he taught the team - our congregational participation is much better than I've ever seen before. We are very grateful!"
"Grant's heart and mind for worship comes from a lengthy sanctification of the Holy Spirit giving him understanding that worship is our identity before it EVER becomes an activity; Grant knows this better than most I've met!"
"On Thursday I attended Grant Norsworthy's class called 'Crafting a Sound that Invites the Congregation'. The following Sunday at our church service we were able to apply the things that were taught and our congregation sang more than they ever have! We are very thankful!"