ONLINE & ONSITE TRAINING FOR THE HEART & THE ART OF WORSHIPPING MUSICIANS
When the heart and the art of worshipping musicians are less than they could be, the whole Church suffers. Even passionate worshippers will struggle to connect.
More Than Music Mentor provides outstanding resources that improve musicality, increase participation, instill unity and inspire authentic worship – in the musicians and in those they lead.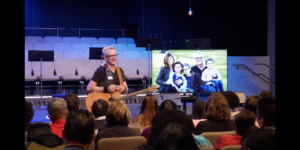 If you desire to see (and hear!) music used more effectively as an expression of worship by your Church community, More Than Music Mentor can help. More Than Music Mentor provides high-quality online and onsite training for the heart and the art of worshipping SINGERS, INSTRUMENTALISTS and TECHNICIANS.
More Than Music Mentor is suitable for any denomination. All ages, proficiency levels and musical styles, from any congregation size are catered for. Theologically sound, highly practical, seriously fun, interactive instruction that will…

With curriculum perfected over more than a decade of successful, professional experience – mainly in the USA – the full, onsite workshop is conducted with the support of a pro audio/video tech instructor and features five interconnected teaching modules:
On your home turf inspire, offer solutions and challenge your team.
"Every worship team can benefit from Grant's workshop. I truly believe that he brings people back to the heart and essence of what worship should be in the church. Sure, every church is different. However, his concepts and methodology bring a healthy unity to the whole team and the congregation."

"Having our instrumentalists and singers use Grant's techniques paid off instantly! Our congregations were engaged and participating more than ever."
"I absolutely loved having Grant work with our student worship team. With visual illustrations, practical advice and a biblical foundation, he connected with our students immediately. I can already tell this will benefit our team for months to come."
"Having Grant come to our church to give a workshop gave the benefits of taking our entire team to a big conference! Everyone was immediately on board."
"I was very impressed with the quality of Grant's teaching and his ability to immediately engage and captivate the audience.  I would expect that kind of quality at a top notch worship conference, but Grant came to us!"
"We benefited greatly not only from Grant's knowledge, skill, and experience, but also from his humble spirit and his Godly attitude. We definitely plan on having More Than Music Mentor return to train us again in the near future."
"I love what Grant's doing with More Than Music Mentor. This is extremely important stuff for 'worship teams' everywhere."
"Long after Grant's talk, we continue to get comments on how Grant's demonstration sparked a real change in thinking for many of our attendees. [And] his actions off stage throughout the week displayed a priceless authenticity to the critical message he shared onstage."